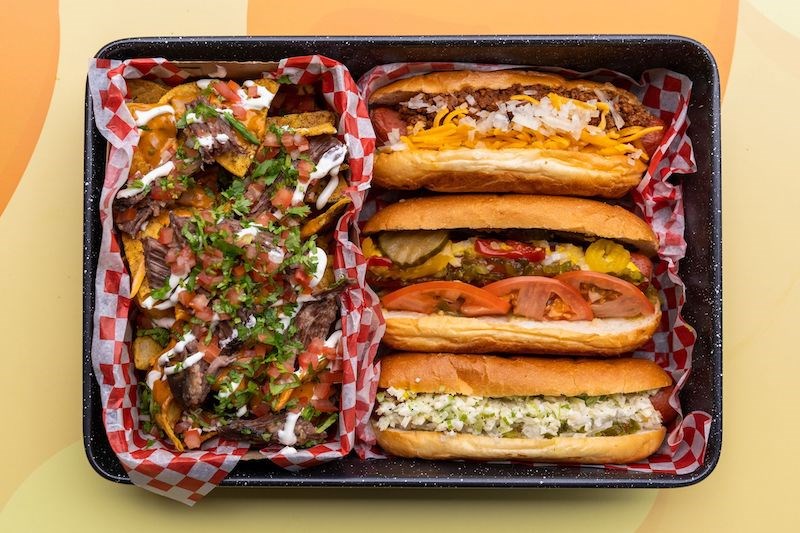 Soon to open a convenience store for snacks and streetwear
Another fresh take on the classic convenience store – complete with shakes, nachos and … sneakers ?!
The next time you have a snack attack, you might be able to find some satisfaction in a new set of joints opening in East Vancouver.
Called The Drive Canteen, and aptly located on Commercial Drive, the business is in part the result of the efforts of well-known local suppliers of excellent snack foods, namely DL Chicken Shack and Downlow Burgers, Doug Stephen and Lindsey Mann.
The duo have teamed up with urban streetwear entrepreneur and art collector Zach Wilcox to turn the concept of a convenience store upside down with The Drive Canteen, which will feature the fun combination of foodie food, street art and of streetwear.
When it comes to food, Stephen and Mann will have you covered with things like loaded nachos and hot dogs, as well as locally made sweet and savory snacks and treats like their own DL Chicken Spicy Pickles, as well as items. like Scarlito's Way cookies, Elbo Jamaican patties and Beta5 chocolate bars. These hot dogs will be tricked with toppings inspired by regional and global flavor profiles – think Chicago or a Quebec "steamie" and Italian or Japanese style dogs.
Also on the deck, homemade milkshakes and soft drinks.
On the retail side, which will debut shortly after the space's initial launch, products will include street wear, sneakers and urban artwork. You can even have your sneakers cleaned by a professional. Other plans include building an arts and events space with its own separate entrance, which will support non-traditional art forms, local talent and pop-ups.
"The Drive Canteen is for anyone who's ever craved good old-fashioned snacks and drinks," Stephen says in a press release.
Opening day is imminent for The Drive Canteen, which is located at 1111 Commercial Drive, and can be found on social media at @drivecanteen. Find updates on when you can go see shakes, nachos, snacks, and more.