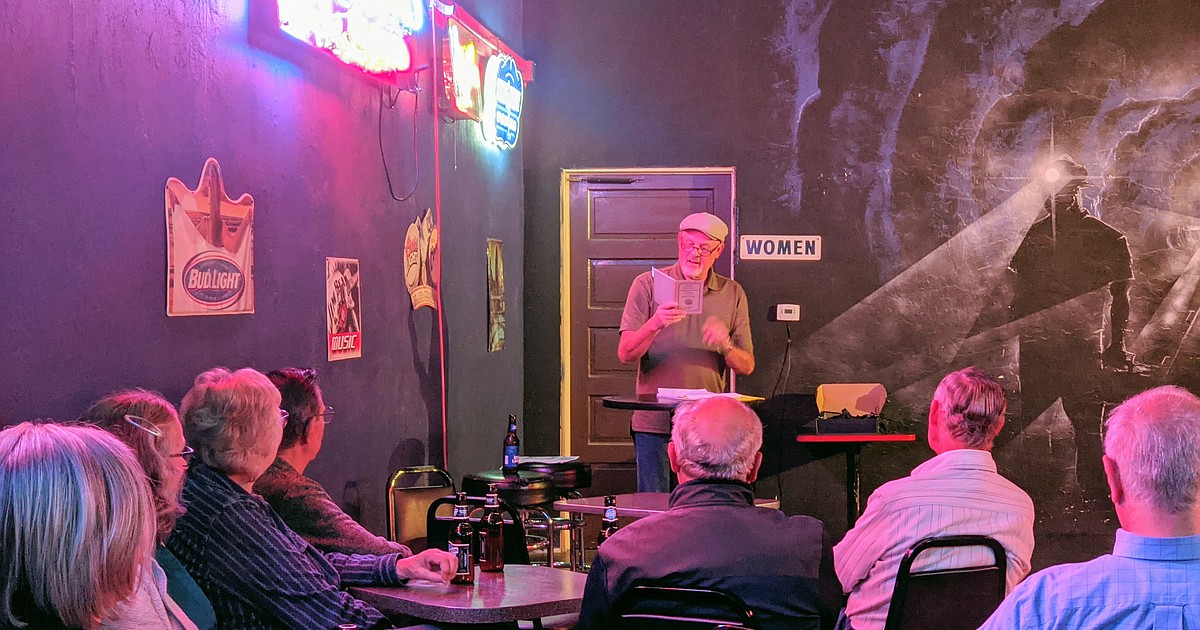 Prepare to fall in love with history
WALLACE – History lovers, unite!
The Wallace Chamber of Commerce is once again hosting its popular Fall for History event this weekend with a focus on a topic locals may or may not be familiar with – mining.
"Where did we get this one?" Asked Co-Chair Janet Feiler with a smile. "It's a great theme to work with. Everyone has been very enthusiastic about it and we've had a lot of buy-ins from the people who work at this company – Idaho Mining. think it's going to be very successful! "
The historic fun kicked off Thursday night with an open mic event, "Mining the Magnates and Mavericks," at the Dayrock Underground. Mike Branstetter was MC as men and women who have left their mark in the mining industry shared information about their lives underground.
The main events are scheduled to begin on Friday afternoon when the "Mining the Museums and Manuscripts" guided tour and the "Mining, Art" self-guided tour start at 2 pm.
Feiler explained that the free streetcar tour is a new addition to the festival's lineup.
"We're going to have a hop-on hop-off cart, so people can be at any museum and be picked up and go to the next museum."
Each museum is expected to have mini-presentations that can be listened to on topics related to mining. Guided tours of the mining heritage exhibition will also be offered with treasure hunts and gold panning demonstrations.
Trolleys will run every 20 to 30 minutes and depart from the Northern Pacific Railroad Depot Museum.
Self-guided tours from 10 a.m. to 2 p.m. (repeated on Saturdays as well) will lead participants to many sculptures, paintings, sketches and photographs produced and inspired by the mines and miners of Silver Valley. Works include those of Ken Lonn, the late John Darrington, James Buckham and Joel Tankersley.
To top off the day, the Wallace Elks Lodge will host "Claim Your Grubstake" – a 6pm steak and / or chicken dinner where attendees can learn more about the Silver Valley mining districts from experts Chris Pfahl, John Jordan and Mike. Dextre.
Doors open at 5:30 p.m. and tickets are $ 20.
Saturday's main event will be an opportunity to experience a two-hour Burke Canyon tour led by local expert Charlie Mooney. What makes the tour even more special is the use of Gravis Tech's "Historical Burke Tour" project.
With roots in a project Gravis Tech started about four years ago, dubbed "Tour the Missing Buildings of Wallace," this Burke Canyon-specific project goes one step further with the goal of immersing someone in the history of the region with the help of technology. The goal is for visitors to be able to see the historic sites of most of the ancient mining towns in the canyon using panoramic images (tours around me), yesterday and today images taken (roughly) in the same places and colorized images in black and white.
At 9 a.m. and 1 p.m., participants are invited to the Wallace Carnegie Library for a short presentation of the Gravis Tech project. The tour bus will then leave for the canyon after the presentations and will cost $ 20.
Self-guided tours will also be available at the Northern Pacific Depot Museum, Wallace Mining Museum, Barnard-Stockbridge Museum and the Mine Heritage exhibit from 10 a.m. to 5 p.m.
For the last day of the festival, Fall for History brings the Bible belt to Wallace with the "Give Me That Old-time Religion" event. At 10 a.m., a circuit preacher will arrive on horseback at the old Methodist Church in Wallace to deliver an old-fashioned sermon to the congregation.
"He will do a little 'fire and brimstone' presentation and play some tunes on this church's historic organ," said Feiler.
Fall for History will then end after the traditional home tour from noon to 3 p.m. Feiler explains that this year's tour, "The Second Stories," is a bit different from the past.
"We form groups of 10 people each and take them upstairs to visit the apartments of the most historic companies in the city center. They can see some of the old world charm and some of the changes that have been made over the years. "
Advance tickets cost $ 20 each.
Wallace Chamber coordinator Dave Copelan said the Chamber had received financial assistance to host the festival.
"We were able to receive a grant from the National Endowment for the Humanities, which really helped us cover a lot of our costs. "
All Fall for History participants will receive a free copy of the new "Mine-Made Map & Guide to the Coeur d'Alene Mining District". For Fall for History reservations or for any other information, contact the Wallace Chamber at 208-753-7151 or email [email protected]
Masks and disinfectant will be available throughout the various events.