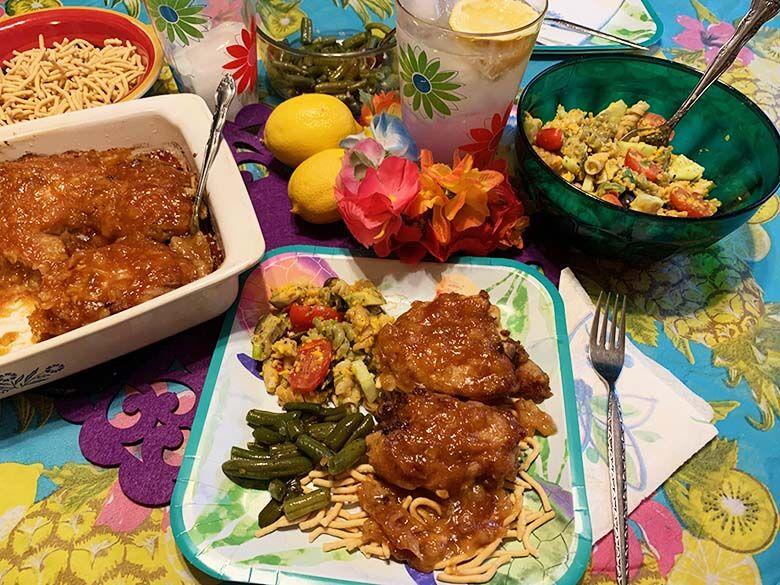 My Leader Yummy – Chicken Luau | Receipts
Chicken is one of the most versatile meats you can cook, and it's generally a favorite with kids. Whether it's cooked whole, chopped and fried, or made into chicken and meatballs, chicken is a great year-round choice that is sure to be enjoyed by the whole family.
For those looking for a new way to cook chicken, this two-process chicken luau recipe may seem overwhelming, but it really isn't. And, the delicious dish is well worth the effort.
First, the chicken should be browned on each side, then it is put in a baking dish where the oven does the rest. The result is a tasty dish that can be made with whole chicken, cut into pieces, or just chicken thighs or breasts. It's a great way to bring an island favorite to your own table at home!
CHICKEN LUAU
1 can (13 1/2 ounces) crushed pineapple
1/4 cup brown sugar
2 tablespoons of cornstarch
1 teaspoon of salt
1/2 teaspoon Worcestershire sauce
1/2 teaspoon garlic salt
2 tablespoons of sweet vinegar (such as apple cider or balsamic vinegar)
2 tablespoons of water
2 tablespoons of orange marmalade
1/3 cup ketchup
6-8 chicken pieces (breasts, thighs or whole chicken cut into pieces)
Drain the pineapple and reserve the liquid. Combine the pineapple liquid with the rest of the ingredients except the chicken and pineapple and heat, stirring, until thickened. Add the pineapple.
In a skillet, add just enough oil to brown the chicken. Lightly season the chicken pieces with salt and pepper and lightly coat them with flour. Place the chicken pieces in the pan and brown on each side.
Once browned, place the chicken in a rectangular baking dish or casserole dish large enough to form a single layer. Pour the thickened sauce over the chicken.
Bake uncovered at 350 degrees, basting with the sauce several times during the cooking process, for 35 to 40 minutes or until the chicken juices run clear when a fork is inserted near the center of each piece.
Note: This can be served over chow mein noodles or cooked rice. A pasta salad and roasted green beans with honey go perfectly with this dish.
Brotherton offers website readers one stellar recipe per week in the "My Yummy Chef" feature.
Looking for a recipe you can't find? Email me at [email protected] and I'll see if I have it.