Master summer with an apple and tangerine macaroni salad | Herald Community Newspapers
(Family Characteristics) Avoid boring dishes and instead dip into a sweet and satisfying macaroni salad, perfect for enjoying al fresco.
With fresh ingredients and a mouth-watering flavor, this apple and tangerine macaroni salad is more than just a side dish – it's a meal in its own right. The grilled chicken breast is complemented with tangerines and the sophisticated sweetness and crunchy texture of Envy apples. Named No. 1 apples in the United States for their taste, crunchiness, aroma and appearance, according to an independent sensory test by Forward Agency, apples are a delicious way to enhance your favorite dishes.
This recipe calls for turning on the grill to cook the chicken to juicy perfection, tossing your own homemade macaroni salad, and dicing a lovely apple into cubes, making it a perfect dinner option for those summer evenings at the House.
Visit EnvyApple.com to find apples at a grocer near you.
Watch the video to see how to make this recipe!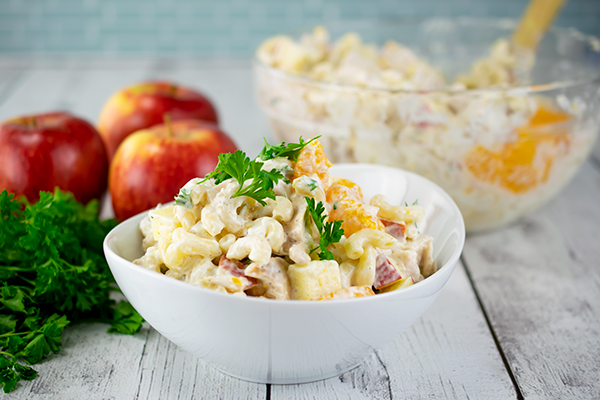 Macaroni salad with apples and tangerine
2 chicken breasts, thinly sliced
1/2 package of cream cheese, softened
1/4 cup Greek yogurt
1 tablespoon finely chopped shallot
1 lemon, zest only
1 tablespoon of lemon juice
1 can (10.7 ounces) tangerines, drained, juice reserved
2 tablespoons finely chopped parsley
1 teaspoon kosher salt, plus additional, to taste, divided
20 rounds of fresh cracked pepper, plus extra, to taste, divided
the water
1/2 pound of macaroni
1 Envy apple, diced
Let the chicken breasts rest at room temperature for 20 minutes.
Mashed soft cream cheese, Greek yogurt, chopped shallot, lemon zest, lemon juice, 3 tablespoons of reserved tangerine juice, chopped parsley, salt and pepper. Put aside.
Preheat the grill or sauté pan to high heat. Season the chicken breasts with a drizzle of olive oil and S&P to taste.
Grill the chicken breasts until the internal temperature reaches 165 F. If using a sauté pan, cook 2 minutes on each side, then finish in the oven at 400 F for 5 to 10 minutes. Let the chicken cool then cut it into small pieces.
Bring a medium or large pot of salted water to a boil. Add the macaroni and cook until tender. Drain and pour hot noodles into a large mixing bowl.
Gently stir in cream cheese mixture until noodles are well coated. Let cool slightly.
Add the diced chicken, apples and tangerines; stir to combine. Serve lukewarm or chilled in the refrigerator to serve cold.