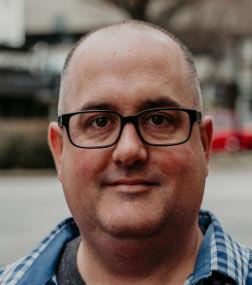 Chris Trainor: A tailgate party around the corner | Chris Trainor
There is a distinct feeling you get when you unexpectedly spot a piece of your past. Even if it's just a small piece, and only for a moment.
I got that feeling one night this week as I was driving to a leaving party for one of my colleagues at The State newspaper in Colombia. She recently landed a job at a major metro newspaper across the country, so she has to fly. This is the deal.
The party was held on the lawn of a local brewery on Shop Road in Columbia, not far from Williams-Brice Stadium, where the University of South Carolina plays football.
I'm sure more than a few of you have spent time in Williams-Brice or Williams-Brice on those precious few Fall Saturdays, and know how much of a scene that can be. Cars are choking Bluff Road and Assembly Street. Fight songs and rap music screaming through the speakers of cars parked along every available plot. Thick air with the smell of grill smoke and fried chicken and bourbon. The shrill whistle of highway patrollers cutting through the din as they deal with traffic and pedestrians at major intersections, watching closely for major infractions but looking away when a group of fraternity boys – or he long ago of boys from the fraternity – comes to walk loudly breaking every open container law in the books.
It is, for several hours each of these seven autumn days, essentially madness. It's barely controlled chaos as 70,000 or more people – as many as all of Greenwood County, for reference – descend upon a small place in the world, like ants crawling on a mound.
However, when you drive around the stadium on the evening of one of the other 358 days of the year, it feels strange. Like being in a town where everyone has picked up and gone. Or like being at school on a Saturday morning. The place is the same, but the environment and the feeling are very different.
As I drove this week down Shop Road towards that departure party, I glanced to my right and spotted a fenced parking lot, with rows and rows of vacant spaces, with large empty trash cans at the end of each row and a brick building to the side. As the University of Kentucky headed to town to play the Gamecocks this weekend, it was the calm before the storm.
The name of the parking lot is Cocks Corner, the kind of place where people can buy or rent their own parking space for games. And that was the first place I went tailgating, decades ago.
I was 9 years old. Fall 1987. The Gamecocks were in the midst of what was to be an exceptional season and were scheduled to play the East Carolina Pirates on an October afternoon. I was in third grade and was just starting to realize the importance of college football in the South. I don't remember exactly how it went, but that Saturday my Uncle Dave asked me to go to the USC game with him.
My Uncle Dave was and remains a character – he's the uncle of the uncles – and I was delighted to be able to watch a Gamecocks game with him. But we must have arrived several hours early, he said, for the tailgate.
As a third year, I was unfamiliar with the concept of tailgating. But I would be taking a crash course that day, as we were on our way to a pre-game party at Cocks Corner.
It was sensory overload for a young Caroline fan. There was a live orchestra, tables on tables stacked with food and libations, and people decked out in garnet and black as far as the eye could see. It was also the first time I saw adults doing things like jumping in the bed of a van and crowing like a rooster. I don't remember much of the game itself that day except that USC won and my uncle gave me a hug after the Gamecocks were intercepted.
Needless to say, I was addicted. Addicted to life. Since then, I have spent a good part of my life following the Gamecocks across the country. They'll often break your heart and cheer you up every now and then, and I wouldn't trade them for anything.
All of this crossed my mind as I passed an empty Cocks Corner recently on a random weekday evening. I thought of my Uncle Dave and that hatchback party a long time ago, and all the water that has passed under the bridge in the decades since.
Some things are never lost.
Chris Trainor is a contributing columnist for the Index-Journal. Contact him at [email protected] You can follow him on Twitter @ChrisTrainorSC. The opinions expressed in this column are those of the author only and do not represent the opinion of the newspaper.